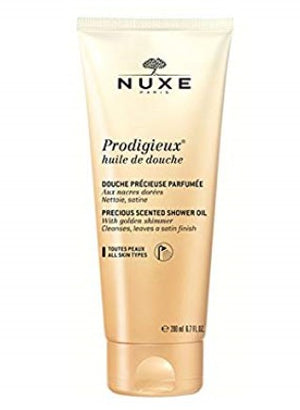 NUXE PRODIGIEUSE SHOWER GEL
We are SOOOOO excited to be able to offer this gorgeous French brand and have now introduced the SHOWER GEL to compliment the beautiful HUILE PRODIGIEUSE.
NUXE is a no.1 best-seller in French pharmacies.
The SHOWER GEL has a precious iridescent texture and an oil sprinkled with golden pearly particles which transform into a very fine foam on contact with water.  
Its formula gently cleanses the skin and gives it a satin feel.  Its dreamy scent leaves skin deliciously fragranced.
6.8oz, 200ml
Ingredient

GENTLY CLEANSES I Sulfate-free cleansing base with Sweet Almond oil LEAVES A SATIN FINISH I Golden shimmer of mineral origin LEAVES A DELICATE FRAGRANCE I Huile Prodigieuse Fragrance 
AS SEEN & FEATURED IN WORLDWIDE PRESS

Quote from a review in NY MAG:
"Huile Prodigieuse is, yes, a prodigiously awesome dry-oil with a velvety texture. You can use it as a post-shower moisturizer for shimmery, baby-soft skin. You can put it on the ends of your hair, wrap the whole business in a warm towel, and find the resulting tresses shiny and supple. You can dribble it in your bath. When your face is dry, add a few drops to your moisturizer or day cream. I use it every day in some form: always as a body moisturizer, and usually for something else, too — to tame my eyebrows, to smooth the ends of my hair, to moisturize my cuticles. Those days I don't wear perfume, it imparts a touch of scent that isn't overpowering. Basically, anything argan oil can do, HP can do, too — only it's somehow sexier. And like all Nuxe products, it's made from natural ingredients.
I haven't even gotten to the intoxicating smell — warm, slightly sweet, subtle. This signature mixture — it includes borage, St.-John's-wort, sweet almond, camellia, hazelnut, and macadamia — has such a following that Nuxe actually makes a perfume scented exactly like it. If you want to really up the sex appeal, Nuxe also makes a gold-flecked version of the oil. (I'll be honest: That's too sexy for me to handle.)" - Sadie Stein, NY MAG, 2018